Avada Theme is the number 1 selling WordPress theme on ThemeForest which is quite impressive. Avada has been around for over 5 years and, for better or for worse, is a swiss army knife type of theme.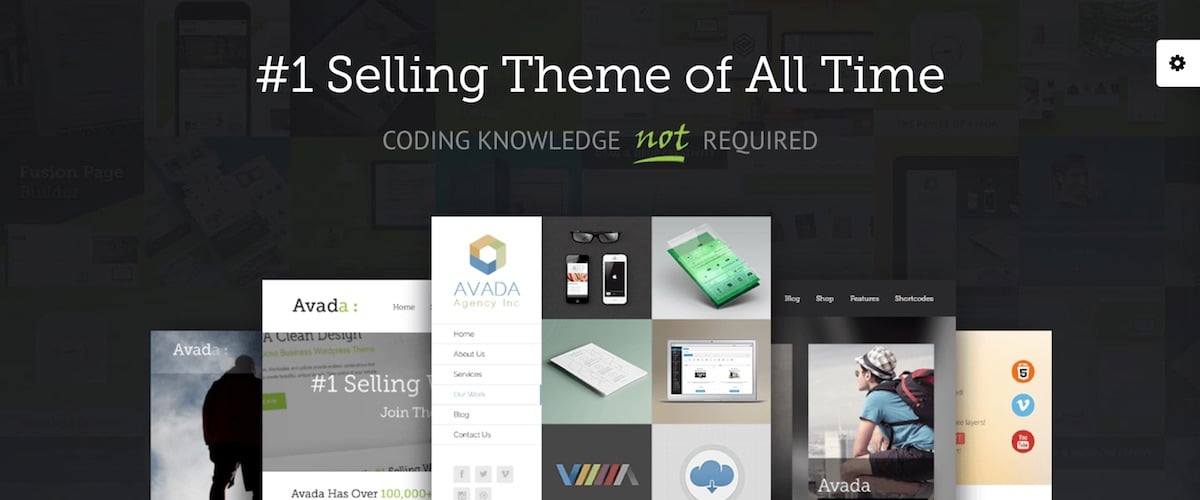 Avada Theme Key Features
Backend Only Page Builer
Settings Panel In The Backend
38 Demos To Get You Started
Hundreds Of Theme Options
WooCommerce Integraton
Avada Theme Things To Consider
If you are deciding on whether or not to use Avada for your website, first I want you to know that you can make a website with it, but how much time that will take and the learning curve you will have to go through are the issues here.
Just like any technology, how you build a website with WordPress today, has changed for the better. Sadly Avada has not changed with it. When Avada was first released over 6 years ago, it was modern. Fast forward to today, and it represents everything WordPress used to be, but it's self hasn't changed.
It is bundled with a back-end page builder, where it will take significantly longer to build pages because there is no visual representation of what you are doing. It's like flying blind. Backend page builders are not intuitive to use and you will waste so much time having to go back and forth, on the front end and back end to verify every little change. So if a website would typically take 30 hours to build, with a back-end page builder it could easily take twice as long to get just right. Modern page builders are all front-end and a joy to use, which is not the case with Avada.
Second, the Fusion Page Builder has content lock-in because it's shortcode based. This means Avada for life, if you want to make a change to a different theme in the future, you have to start from scratch. This is why I don't like to recommend using a page builder that is tied to a theme. It's a bad idea all around.
All of the Avada settings are in the back-end as well. The same principle as above, it's going to take a lot longer and be a lot more tedious. Where modern themes have all of their options in the customizer because you get immediate visual feedback on your changes.
Avada has been referred to as a slow bloated theme. You have to remember with websites, less is more. With Avada you get more, a ton of stuff that you don't want and will never need, this is the bloat that people refer to. It makes no sense to have all that stuff in a theme that slows down the WordPress backend and locks you in further into the theme.
Regarding the age of the Avada theme, logically you think if a theme has been around for 6 years then it must be good. But the reality is, times change, and the way we do things today is different than how things were done 6 years ago.
Cost should also be a consideration. It is currently $60 PER WEBSITE! Most themes allow unlimited installations for around the sale cost or less. I'm not complaining about the cost, but I do think it is something to consider.
For support, you only get 6 months. I think that is not enough. You can extend the support, but at a cost.
Avada Theme Review Summary
In my opinion, the Avada theme represents the past and is everything that WordPress is not. Sure some people like the fact that there are hundreds of settings and options to tinker with, but I personally prefer all theme options in the customizer. I would cut them some slack if it was easy to use and work with, but with a backend page builder, it's not as easy or intuitive to use as it could be if it were using a front-end page builder.
For your website you want it to be lean and fast which will create a pleasant visitor experience and site speed that Google will love. You could get there with the Avada theme but will take significantly longer, be a lot more tedious, and have a steeper learning curve.
While I can't recommend Avada, it's important to say that even if you choose Avada, you can still build a nice website for yourself, but it represents the old inefficient way of building websites, so just know that going in.
来源:https://www.wpcrafter.com/versus/avada-vs-divi/